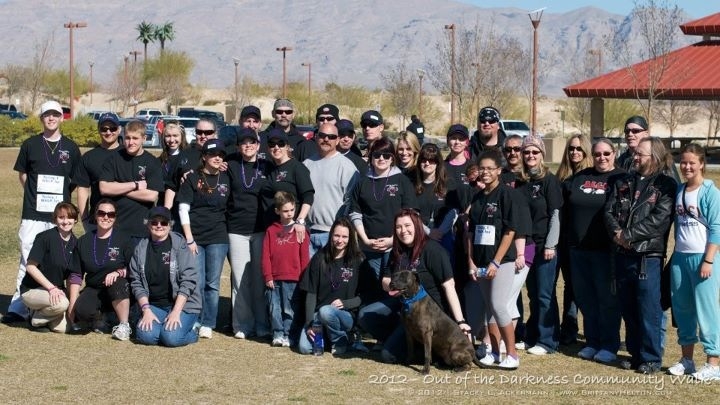 The 2012 Out of the Darkness Walk for Suicide Prevention was an amazing event! There were over 450 walkers there and we raised over $17,000 for the American Foundation for Suicide Prevention.
It was amazing to see so many people come out to support a cause that needs more recognition. I was asked to be the honorary Chair Person and I had the opportunity to introduce the Celebration of Life Speaker, my very good friend Terr Hood Barr. She shared her moving story of learning about her father's death by suicide and what she has done since that time to make a difference in her life and the lives of her loved ones. I have no doubt that her father was looking down on her and smiling as big as he could.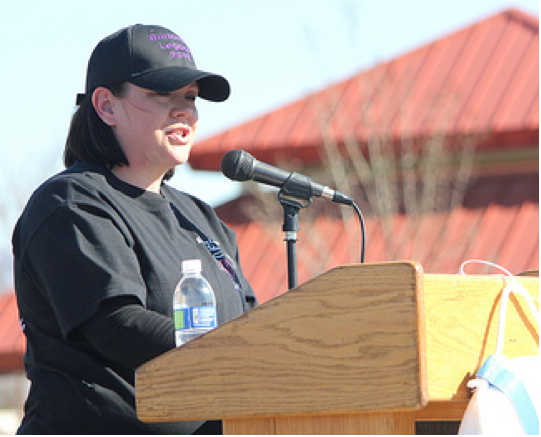 The weather was amazing for they walk and we all walked 3 miles and held our banners and signs high! We held hands and we laughed and told stories about anything and everything. Thanks to all our angels for the amazing weather!
After the walk, our team did our ritual of releasing balloons for Brittany. Prior to that, Brittany's sister Ashley read a very moving letter from their Aunt Toya expressing her thoughts about Brittany and her gratitude towards the family for keeping her memory alive. It was very touching that she took the time to write something for sister to share with the group.
The balloon release was great! There were 40 purple and orange balloons released, and at one point my sweet angel sent me the sign that she always sends me. (Thank you baby) That is when it really hit me what the day was about and I became emotional, which I have not done in quite awhile.
After the walk our group headed to the Draft House for our annual 'After Walk' lunch. It was great to just sit and relax and spend some quality time with the special people in our lives. We were able to talk and relax after the 3 miles we all walked!
I have decided that next year our team name will be changed to honor not only our beautiful Brittany, but to honor a very special young man who, unfortunately I never had the opportunity to meet, but was a very dear friend to a special young man in mine and Ashley's life. Dan Wenzl
Next year hopefully will be another great walk! Time to get started again!!!
You can still donate by going to Brittany's Legacy team donation page.