by Stacey on May.05, 2011, under Thoughts and Feelings
So, Mother's Day is coming up in a few days, and I hope that you send me some kind of a sign to let me know that you are with us.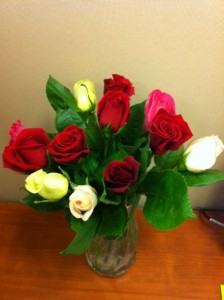 I would love that so very much. I hate the thought of never being able to spend a Mother's Day with you. I know that if you were still here, that this would have been the year that you and I would finally have some type of communication and start to work on getting our relationship where it should have been. If it had been there, you would not be gone now.
Sister, brother and baby sisters sent me flowers and I got them today at work. They are absolutely beautiful and so thoughtful. This is the first time that I have ever received flowers for Mother's Day and it made me so happy. I am going to leave them on my desk until tomorrow and then I am going to take them home so I can look at them all weekend! When I look at them, I will think about ALL my babies. I know that you are here with us and that you will be.
I love you very much and I hope that you are able to do everything that you always wanted to do before you were taken from us. I know that you must feel so happy and free now. Free from the craziness that you had to deal with while living in THAT house with THAT woman. I know that you are finally feeling a sense of relief that you no longer have to deal with what she was constantly doing to you. I am so happy that you are able to at least have a little peace. I know that you will not be completely at rest with peace until she admits what she has done to not only you, but to sister, brother and gram. I really don't care what she did to me, but the fact that she hurt all of makes me so angry. All I can do for is now is to pray for her that she is forgiven by God, and does not end up where she belongs….standing aside Osama bin Laden, because THAT is how evil she truly is.
I love you my sweet angel, and I think of you constantly.